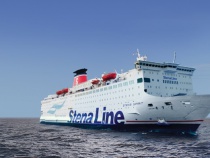 SAFETY AND SECURITY
The recent fire on the car-deck on Stena Spirit puts a major focus on the importance of not leaving devices charging unattended.
The fire was caused by a laptop charging and caused severe damage to cables, vessels hydraulic system and the steel roofing above where the lorry was parked on deck.

Stena Spirit had to be taken out of service for one and a half weeks and amongst other things 4.5 kilometres of cables that had been damaged by the heat had to be replaced. This created huge disruption for our business and our customers. Therefore we would like to take the opportunity to remind and highlight to everyone the fact that it is forbidden to leave anything charging in your car or lorry that could be a safety risk, for example a laptop or mobile.
Obviously those who are causing situations like this will be responsible for all of the consequences.

Early in the morning on August 31st on the sailing from Karlskrona to Gdynia the crew on board discovered smoke on the car deck from one of the trucks. With the safety routines on board, the crew reacted very quickly and the fire was under control.
However as a result of heavy smoke, all of the passengers had to be evacuated to the outside deck and some of the passengers experienced this as a dramatic situation.
Safety is always top of our agenda and we are very well equipped with our crew who are very well trained for handling these types of situations and at the same time we are obviously very focused on avoiding situations like these.
Bjarne Koitrand
Director Ship Management